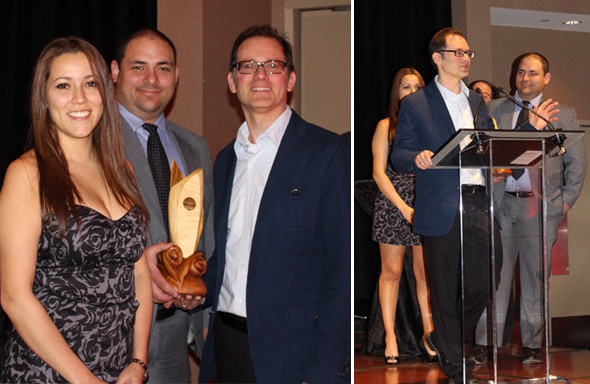 David, Antonio and Karen took home the Engineer Wood Advocate Award at the Ontario Wood WORKS! 2013 Awards on Wednesday evening. They were awarded for their creativity and technical expertise in bringing challenging and innovative designs to life. In the past year alone MSE has engineered Ontario's first two non-residential cross-laminated timber (CLT) buildings – Wayne Gretzky Sports Centre in Brantford and Playvalue Toys in Ottawa. This is the second time David Moses takes home the Engineer Wood Advocate Award – he was previously awarded in 2009.

Daily Commercial News writes:
The award was one of a dozen presented at the recent 13th annual Ontario Wood WORKS! celebration.
The Engineer Wood Advocate Award went to David Moses, a principal in Toronto's Moses Structural Engineers Inc. This award is presented to an individual engineer or engineering firm for the creation of innovative structures of any building type.
"This year's winning engineer takes pride in his experience with challenging, innovative designs and looks for opportunities to use his creativity and technical expertise to bring client visions into being," Wood WORKS! said.
"He is at the forefront of mass timber use in Ontario, having engineered the first two commercial cross-laminated timber (CLT) projects in the province this past year."
Moses is also revisiting the typical design of a four-storey walk-up, considering issues including building height, durability and acoustics "with fresh eyes" in preparation for possible new opportunities in mid-rise multi-unit residential buildings.
"He has developed a structural system for four storeys with an eye for the future growth of the design to six storeys so that if the building codes are updated to permit six storeys in wood he, and his project partners, are ready."
Wood WORKS! is a national, industry-led initiative of the Canadian Wood Council that promotes and supports the use of wood in all types of construction.