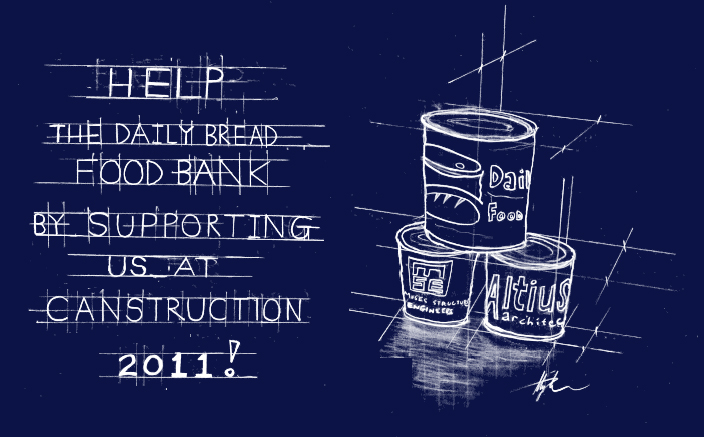 This November, Moses Structural Engineers and Altius Architecture are teaming up to take up the challenge to help end hunger in our community by building a unique structure made entirely of canned goods.
This unique design/build entry will compete against entries from other architecture and engineering firms for awards at CANstruction, on November 7, 2011, and then remain on display in Toronto Dominion Centre until November 12.
When the competition ends, all cans are donated to the Daily Bread Food Bank.
To get ready to build we need to buy thousands of cans of food and we need the help of our friends to make this happen.
CAN you join us as we compete for this great cause?
Your $ 25 donation can feed one individual.
Your $ 50 donation can feed one family.
Your $ 500 donation can feed a community.
Your donation will get your name displayed at our CANstruction entry in the Toronto Dominion Centre, November 8 – 12, 2011.
Email transfers can be sent to [email protected]
Cheques can be made out to Altius Architecture Inc (CANstruction in the memo).
Credit cards can be accepted by phone at 416-516-7772.
Our goal for collecting money to buy cans is 21 October 2011.